Coalition Speaks! March Newsletter
March 27, 2017 - 8:39am — kwhite
As we kick off 2017, the NYIC is marking our 30th anniversary with the "This is Our New York" Campaign to push back against heightened attacks against our communities and to celebrate the positive contributions immigrants and refugees make every day. We started the year off strong by leading a mobilization to D.C. on January 14 and co-sponsoring the historic Women's March. Days later, when Trump ordered the Muslim ban and draconian enforcement measures, we hosted a series of back-to-back actions that included a 30,000-strong rally and around-the-clock legal service coordination at JFK Airport for nine straight days. We are also continuing full-steam with our existing programs, including dozens of Know Your Rights forums, the New American Youth Leadership Corps - a cohort-based leadership development program for immigrant youth - and our third annual Student Voter Registration Day to educate, register, and engage high school students in civic life.


Read more on our recent events and advocacy efforts below!
#NoBanNoWall and #NoBanJFK
NYIC staff and members stepped up and worked non-stop to organize in response to the Muslim ban and border wall orders. After dozens of people were detained at Kennedy Airport, we mobilized thousands in a matter of hours to JFK, and the next day organized a 30,000-strong march to protest the orders, as well as two Jummah prayers. We also led the 24/7 coordination of legal service provision for immigrants affected by the ban - for nine days. Our actions sparked similar protests around the country, and our efforts resulted in the courts ultimately striking down the ban.
Student Voter Registration Day
On March 17, the NYIC partnered with City Council, the Department of Education, the Board of Elections, the NYC Campaign Finance Board and community-based partner organizations to register thousands of high school students to vote. Check out photos from the day here.
Know Your Rights!
A crucial piece of our work over the last 30 years has been educating immigrant communities about their rights. We've worked with partners to design a community-friendly toolkit including simple, informativeinfographics about what to do if ICE shows up at your door. Since January, we've held more than 60 "Know Your Rights" trainings and workshops.
New American Youth Leadership Corps
We've launched the second year of the NAYLC - which engages immigrant youth to learn about social justice, financial literacy, college access, civic engagement, public speaking, and the immigration system. These 20 youth are now preparing to co-lead their own workshops for members of their community!
Green Light NY: Driving Together
The NYIC is leading a statewide campaign to make driver's licenses available to all regardless of immigration status. Partnering with our members across the state, welaunched in January, and have collected over 3,000 signatures to date! On March 6, we held a day of action in Albany where hundreds of advocates and affected individuals joined together at the Capitol building for a press conference, urging lawmakers to support Bill A4050 - which will provide limited purpose driver's licenses to undocumented immigrants, protect immigrants, strengthen public safety, and grow the economy. Stay tuned for more updates from #GreenLightNY/#LuzVerdeNY!
CORE
The NYIC is part of a new campaign called "CORE" (College Opportunity and Resource Expansion) to make tuition affordable for all New Yorkers, as part of our ongoing work around providing tuition assistance for undocumented students. Next week we'll bring over 200 students to Albany for a day of action to #PassCORE! Like CORE on Facebook here.
#MuslimBan2
The NYIC condemned the administration's second Muslim ban, calling it a mask for the same old hatred and fear. We held a press conference on the day the order was signed, and we support the federal judge's temporary stay on #MuslimBan2. The Muslim ban is NOT a reflection of our true values.
Immigrant Roots: Leonor Falcon
"Immigrant Roots" is a blog series by the NYIC that tells the stories of immigrant New Yorkers. Our most recent story highlights Leonor Falcon, a jazz violinist from Venezuela who came to the U.S. to pursue a career in music. Check outthis blog, where she shares her experiences as a musician and an immigrant in New York City.
Meghan Maloney de Zaldivar
This month, we chatted with the NYIC's new Senior Associate for Regional Outreach, Meghan Maloney de Zaldivar, who supports our organizing and advocacy efforts in Western New York. Here, Meghan reflects on joining the NYIC, the new political climate and the sentiments she encounters in Western New York, and living and working in Buffalo.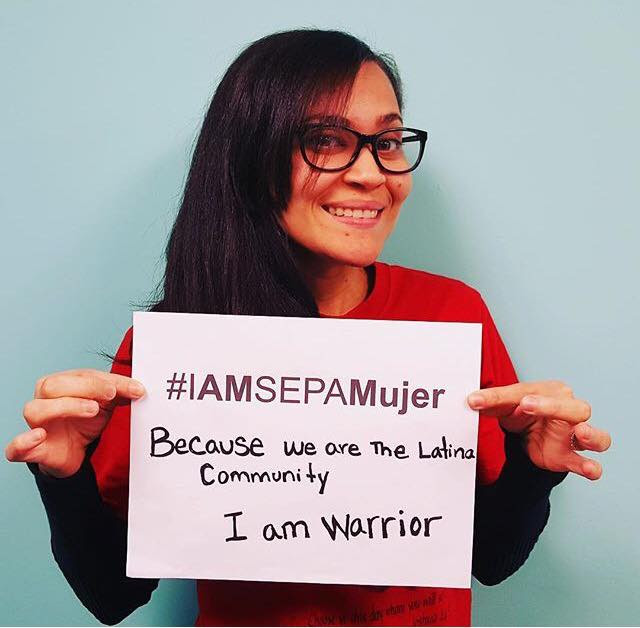 Member Highlight: SEPA Mujer
NYIC member SEPA Mujer works to empower Latina immigrants on Long Island. Our communications team got the chance to sit down with SEPA Mujer's Executive Director, Martha Maffei, to talk about their programs, a typical day at their offices, and what it's like working with immigrant women on Long Island. Get the full scoop here.