The NYIC's 2016 Annual Report Has Arrived!
December 15, 2016 - 3:37pm — kwhite
It is our pleasure to share the New York Immigration Coalition's 2016 Annual Report with you, to celebrate our successes, and to ask for your support as we enter what will undoubtedly be a year full of new challenges for the NYIC, our members, and the communities we support.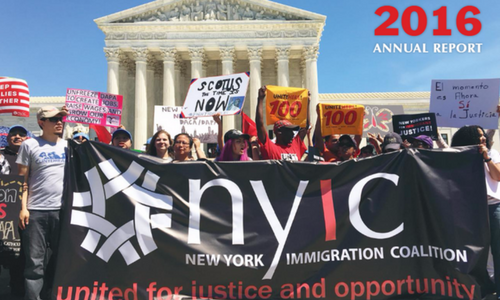 Over the past year, the NYIC has achieved significant wins for New York's immigrant communities: we registered nearly 10,000 high school seniors to vote; launched a new initiative to support Black immigrants and engaged over 1,000 individuals from underserved communities; won $13 million in funding for adult literacy programming; and much more. We also responded quickly to changing circumstances, mobilizing over 700 immigrants and allies to the U.S. Supreme Court to defend administrative relief - and when the Court ruled against these programs, we organized a town hall for our communities which over 200,000 people attended or watched online. Our Annual Report provides even more highlights from our year.
Now we are tasked with preparing for an administration run by a President-elect whose campaign was premised on anti-immigrant rhetoric. We won't back down if the incoming administration attempts to make good on any of its promises, such as mass deportations, taking protections away from DREAMers, or the creation of a Muslim registry. And we are prepared to maintain and strengthen our resolute stance against increased hate crimes and immigration legal fraud. In 2017, the NYIC will educate our communities on rights and resources, work to increase access to legal services, organize against any oppressive policies, build the capacity of our member organizations, and build bridges with the broader public to demonstrate the benefits immigrants bring to every part of the State.
The NYIC will celebrate its 30th anniversary in 2017, and we are enormously grateful for all the support you have provided throughout the last three decades. We're ready for the work ahead of us, but we need your help as we work to unite our state and country around our shared vision of opportunity and justice for all. None of our work is possible without your crucial support. Please donate to the NYIC today to ensure that we can continue protecting, supporting, and serving New York's immigrant communities. We need your help now more than ever!
Thank you,
Steven Choi
Executive Director